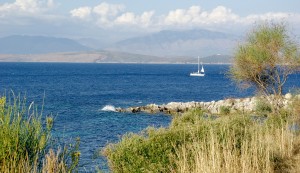 This is not a render 🙂 but a happy moment in Corfu Greece. It's also not blender related – I must admit I didn't even think of Blender while taking the picture – but wanted to let people know I'm back from my vacation and share a bit of sea blue with anyone needing it.
I should be working already but I have been feeling really and unusually weary today, maybe something related to the flight?
Hope I'll feel better tomorrow as I have been keeping an eye on Blender guru's Nature academy teasers and I have a mind to join in if budget allows (price has been a great mystery up to now).