Render Street – our friendly render farm
By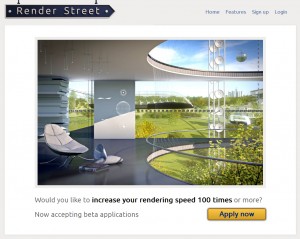 Hi, I'm back to work! It has been a long hot summer on the playground.. but while I was doing Mommy stuff others have been busy.
I'm proudly presenting Render Street, an online farm project I'm part of. The other part is my husband Sorin and his partner Marius. From his desk positioned next to mine in our home, Sorin has watched me struggle several times, trying to use a couple of online render services to be able to finish projects on schedule. While I was mumbling annoyed words about uploading being a mess and render times too slow he said "wait, we could easily do something like this that would work!".

I think the "easily" part was not too accurate as they worked a lot since then. They are really experienced programmers with lot of work between them as a team but they had not so much experience with Blender, with all the releases in use, with the different render engines. Particles and baking fluids gave them a hard time too. I tested and helped them on the way as their own in-house (literally) blenderhead.
Now that things seem under control the website is launched, it is in beta stage and looking for testers willing to apply and help with some feedback, and Marius posted on Blender Artists an invitation for the Blender community:
I am thanking in advance those who would like to try it. You can send feedback any route, on the Render Street page, BA thread or on Blendermama.
Support of the latest Blender version 2.64 is being added really soon.