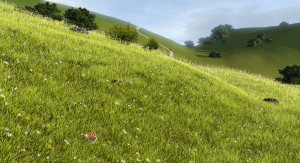 Something is missing! What! no human mark on the landscape except for a small footpath?
This is my personal scene based on the grass tutorial in Andrew Price's Nature Academy. I had fun following such a non-architectural subject – something rather new for me – hence the butterflies in the foreground 🙂 The distant hills are not very convincing but maybe I'll try to improve that later.
I have spent this week partially surveying some work on our living room ceiling – and keeping the computer covered due to thick  dust! The rest of the time I tried to complete the grass tutorial.
Apart from the grass thing that is certainly useful, there is a lot about compositing in this that I really wanted to learn and had difficulty doing it on my own. I don't have the WOW factor but these tutorials are packed with compositing stuff. It is a bit fast paced and "advanced" so I had to replay a dozen times in order to get it but hopefully by the ninth tutorial I won't feel like running a marathon after working with the compositor window 🙂
For the first round I followed the tutorial almost to the letter: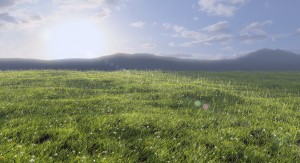 There was also a sun flare but I somehow couldn't make it look right so I skipped it.
I personalized the grass a bit after getting the hang of it and added more flowers, inspired by this photograph: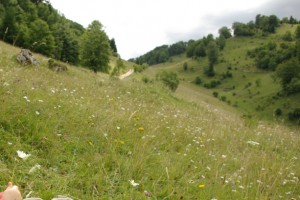 A happy moment on a flowery meadow before the haystacks are made.
And for my next scene I will have to add some architecture, I'm not on vacation anymore!