Need to improve my work
By
I decided I should try and follow some great advice from Blenderguru. Well, he is the guru! I'll only change that to "better archviz artist".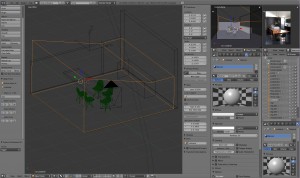 I started following a top archviz website that's not Blender related, just to keep up to date with the best 3d architectural work. This depressed me, the work currently produced is stunning and in great volume. I have difficulty these days to find poor archviz stuff. The site is also full of amazing advertisements to all sort of commercial software for 3d architectural visualisations, and everyone uses Max and vray and maya etc. So I had to draw a deep breath and say to myself  "I can do it, I can do it, in Blender internal and working just 4 hours a day, and  keeping my blog at the same time". Then I decided I will make some amazing work soon and go on their forums to show off Blender.
Next advice I considered was to make a complete project each week. This is tricky. If I get more commissioned work, that settles it, on my own, keeping deadlines is more tricky. Could give it a try.
Third advice: use a photograph as reference. I usually do that, looking for details in various references but never quite tried to replicate an architectural photograph. There is a downside to doing this, when someone looks at something interesting in your portfolio it assumes it is either your own architectural design or some work you have been commissioned to do. Labeling an image as "something cool I spotted on Architizer.com and wanted to recreate" sounds a bit amateurish. I am not sure about copyright implications either but will try not to worry as I am not using this commercially. On the upside, this would be great exercise, like for a painter using a model to improve his drawing skills. I would not have to worry about design, just pick something that caught my eye and concentrate on the blending.
So here is my pick for this week,  an interior spotted on Remodelista: black kitchen
I really like it, it has some beautiful materials, some good furniture and accessories and I will have fun recreating that cool table.
I already spotted a similar Eames chair on Archive3d.
So let's see how it comes out!