Mirrored glossy reflections trouble
By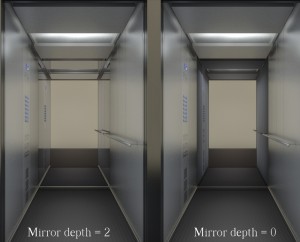 In short: glossy reflections don't get reflected in plain mirrors, setting the mirror depth to zero is an imperfect solution.
Long story: this is a case of extreme glossiness you don't get every day in a project, but there it was: I was working on an elevator interior and had a lot of glossy reflections recreating brushed stainless steel + a mirror wall  = all that was reflected in the mirror was wrong because the blur was gone, all reflections were clear. So BI doesn't reflect the glossiness.
I understand this is not exactly a bug, more of a BI limitation and have no idea if it will be improved. As Cycles is getting all the attention now, BI might not get many improvements soon or ever. But until I find out whether Cycles will work for my projects as nicely as BI does, I try to find fixes and workarounds….
So what worked in this particular project – though I'm not sure it will cover every variation of this problem – was setting the depth to zero in the mirror material settings. So this killed the secondary reflection completely which is not ideal; the stainless steel in the reflection does not look too great, but at least the weirdness of having unexpected reflections showing up disappeared.
I also separated the mirror in a render layer and used the compositor to fade it a bit with a pinch of blur but I'm still not very good with compositor tricks so probably this could be done better.
Have you stumbled on this before?