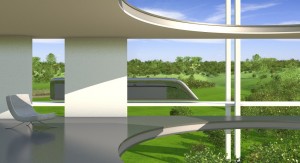 I thought I could post my progress on the Future competition image. I managed to spend some time on it today but only on the nature part of it. I found a sky image I really liked, edited it a bit so it would fit the background and set up the lighting with Environment light -> sky texture. Added one point light for now, I will fiddle with lights more if needed when I make the interior.

Next I made a meadow underneath my future "floating" house. I started with a river that didn't look too well so I took it out but kept the valley I had modeled. I then made a brand new grass map from a vacation photo, using Gimp's seamless function and the clone tool. All grass will be seen from above so I guess no need for 3d grass. It looks a bit too uniform right now but I'm not sure I want more detail on it as it would remain the backdrop for the rest of details I'm supposed to add. I then used Sapling to make some tree foliage for distant trees. I hope to keep it under control so I made it rather scarce, just leaves no branches, spread it with particles and weight paint.
Maybe it's enough, hope to get to model some more futuristic stuff now. I sketched the train and added a chair I had already modelled to get a sense of scale of the scene. I also punched the hole through the roof, not really for the design of it but I felt more sky was needed in the image. Maybe something interesting could fly up there?