Christmas competition entry
By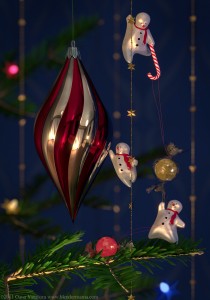 ..and here it is! Merry Christmas! 🙂
..Are they helping with decorating the tree or are they helping themselves to some Christmas candy?…
I used Cycles for this, here are some production details:

The scene is minimal, I only put in some little fir twigs and the room is modelled in 10 minutes, that's enough to get something reflected in the ornament.
Actually I started trying to use Sapling to make a fir tree and spent some time on this (the sapling fir tree tutorial posted a couple of weeks ago wasn't online yet).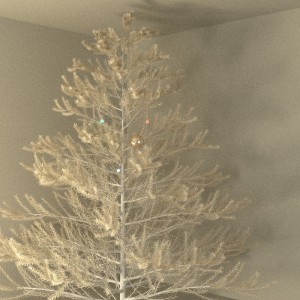 Sapling is not bad at all and I liked the results, only it rendered too slow in Cycles so I'll keep this in a drawer for another time. At this point I thought of the twisted pointy decoration and loved it so much that decided I'll make a closeup scene that would need just a little branch.
Then I tried separate a sapling twig from the sapling tree but it didn't look too well except if I wanted to make an artificial tree which I didn't.
So next I tried to make a twig, modelling the stem and three needles and using particles with groups to put it together. It probably can be done this way only after many tryouts my twig didn't look right so I realised I would waste less time if I just position the needles "by hand". So the final fir twig is modeled needle by needle so to say. Then I copy-pasted it several times.
The idea of ornaments stealing candy came to me from start, only It seemed too complicated for me to model, so first I was going for just one cute snowman admiring his reflection in the shiny decoration: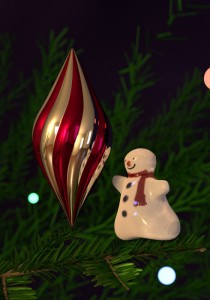 But as I still had a lot of time ahead I started adding more details and giving it a bit of a story.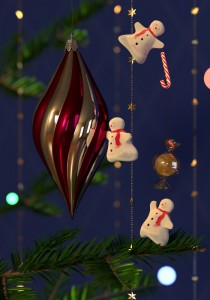 Just a word on the Cycles setup. I added some emitter golden spheres around the room so the reflection looks like an evening one, and some smaller colored ones closer to the subject to get the Christmas lights look. Though Cycles lighting is easy to set up, I spent a lot of time on these spheres because of the reflections. I wanted to get colored lights and specular highlights on the snowmen and candy but the lights casting them created bad reflections in the shiny decoration. These reflections disappeared only if both "camera" and "glossy" were disabled in object panel -> ray visibility but then the nice highlights on the glossy objects went away too. I had to move them around a lot to get them working right.
So this makes it official, I can now use Cycles in a real project. Well, who would have thought that?
There were tons of good entries for this competition, I'm not seeing myself winning this either but I'm looking forward to seeing all the entries together and the results.
Now, back to work!