I went in search of some garden furniture today for my current project and came back with a bench, a deck chair and a cat :). I discovered Archive3D and they really have nice looking objects, different design styles, for free! They come in 3ds format so they import to Blender – not perfect but well enough. Some work is required to get them right – texture and scale them. They also have cars.
So here is the cat, comfortably grooming in a deck chair: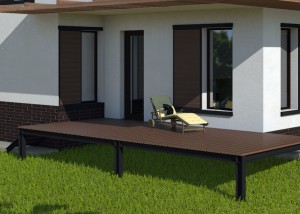 I didn't post a closeup on purpose – looks rather fake I'm afraid, didn't manage to get a good fur shine. It would look better with a cat photo on a transparent plane but just wanted to try a 3d for a change.
Also, I think I'm done for now with the grass tests. It's not perfect but I have to take a break from this and maybe I'll wait until Andrew Price releases his nature training package. For now I have left the particles a bit sparse so render time stays acceptable and tried to get a texture underneath that would camouflage this.
I'll just work some more on perspective and trees around the house and then move to something new.